All Bodies Are Beautiful - digital resources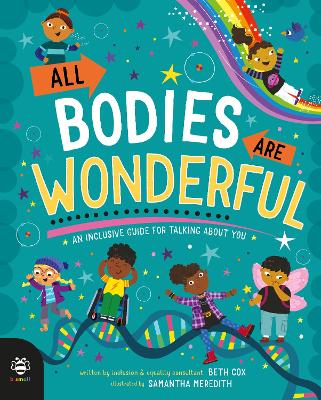 A helpful handbook for talking about you!
We know that bodies can be tricky to understand, and sometimes you might feel like your body is different. But being different is completely natural – it's all just science!
This comprehensive guide helps children learn and understand big feelings about bodies. From the atoms that make us to the things our bodies can do, ALL bodies are wonderful! Find out how amazing you truly are in this wonderful celebration of bodies.
What librarians have said:
'[All Bodies are Wonderful] sets out to foster a culture of joy in uniqueness, in demonstrating solidarity and understanding as we challenge the lens through which we view these differences and learn to see them as strengths instead of flaws.'
- Alison King, Librarian, Literacy and PSE Lead
This book is a great addition to the 'challenging prejudice' section of my school library.
- Ilona Jasiewicz, School Librarian
Digital resources include:
- Downloadable All Bodies are Wonderful expert-written teaching resource
- Downloadable illustrations to print out and display
Download this resource